Solicitation and Posting
Main Content
Solicitation and Posting at the SIU Student Center
SOLICITING DURING COVID? - click here
Want to interact with students on behalf of your student organization, class project, department, or business?
A table and a reservation are required for any type of solicitation at the Student Center.
A link to request a table/reservation can be found here or by contacting Student Center Events Services at 618-536-7751 or conferenceservices@siu.edu
Groups not allowed to solicit at the Student Center include:
Credit card applications and vendors


Branded SIU Logo materials

Books and textbooks vendors

Non-Student Center Preferred Caterers
Non-Student Center Dining Locations
Technology vendors (such as computers, iPods, computer software, etc.)
Off-Campus Housing
Bars and night clubs/happy hour specials
Items which compete with Student Center or Southern Illinois University Carbondale products, services, vendors or tenants unless special approval is obtained during the application process.
Any group with a table reservation must stay behind the table at all times. Approaching students for soliciation in any other manner is prohibited. Any group that violates the above policies will be escorted out of the building and referred to student rights or a permanent ban may be enacted. 
The full Student Center solicitation policy including info on sound, prizes, giveaways, and more can be found here.
RSO Resources for campus solicitation outside of the Student Center can be found here.
General campus solicitation policy can be found here.


Posting at the Student Center
Want to get the word out about your event? 
Posters
There are two posting boards at the student center located on the 1st and 2nd floor escalator landings. sizes between 8.5x11 and 11x17 are permitted. Please bring 1-2 copies of your poster to the 2nd floor ID office for approval and posting. Only the ID office is permitted to post posters on these boards.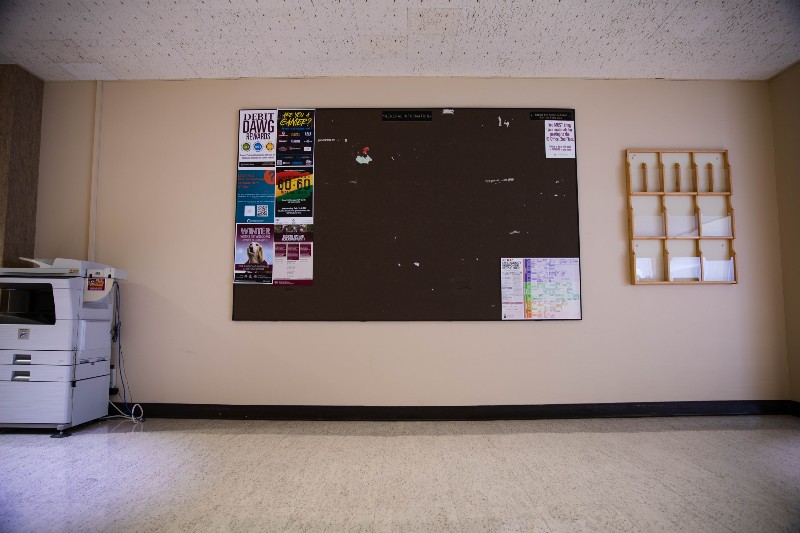 Posters must have:
Day/time of event
Event sponsor name
Contact email/phone number
Need a poster designed or printed? Contact Student Center Marketing and Graphics.
Banners
Indoor
The 2nd Floor Landing and the International Lounge Balcony banner spaces are to be used for promotion of approved student attended events that are hosted in the Student Center and/or sponsored by the student center. Any exceptions to this policy must be approved by the Assistant Director-Marketing and Graphics or another student center administration staff member as approved by the Marketing and Graphics Department. Banner space may be reserved in Student Center Conference and Scheduling Services and banners may be hung for a maximum of 2 weeks. Recommended sizes for banners are: 47" x 36", 93" x 36" and 137" x 36".

Exterior
A 3'x8' banner can be placed on the exterior of the building with an anchored location on the front of the Student Center. Conferences held at the student center and RSOs/Student Affairs Departments have potential access to this location. To learn more contact Conferences and scheduling at conferenceservices@siu.edu.
Banner production
Need a banner made? Contact Student Center Marketing and Graphics. A typical lead time of 2 weeks needed for banners.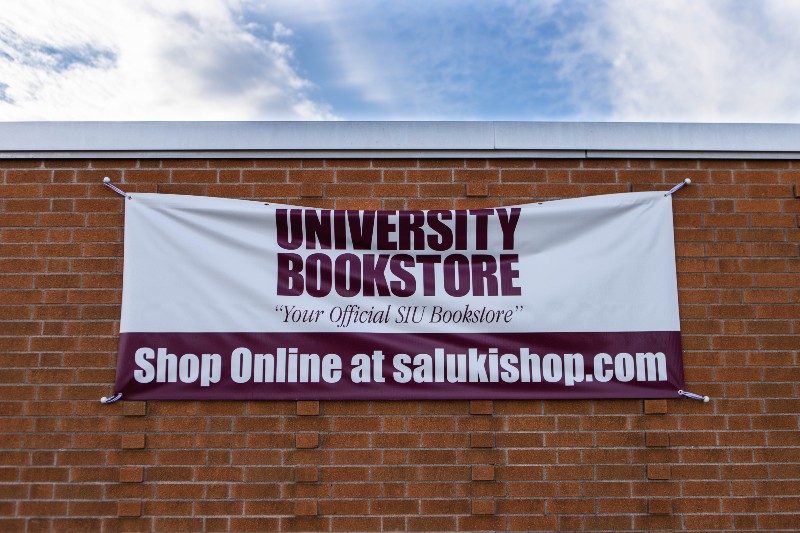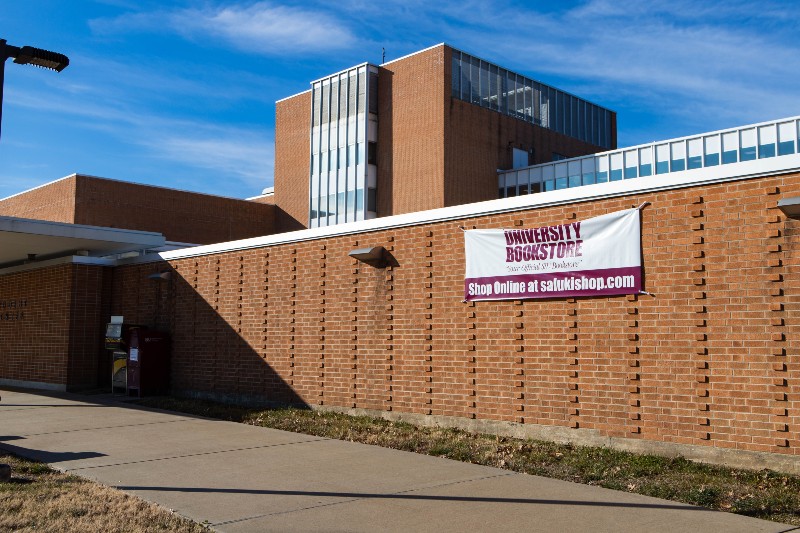 Advertising at the Student Center
Backlits Cases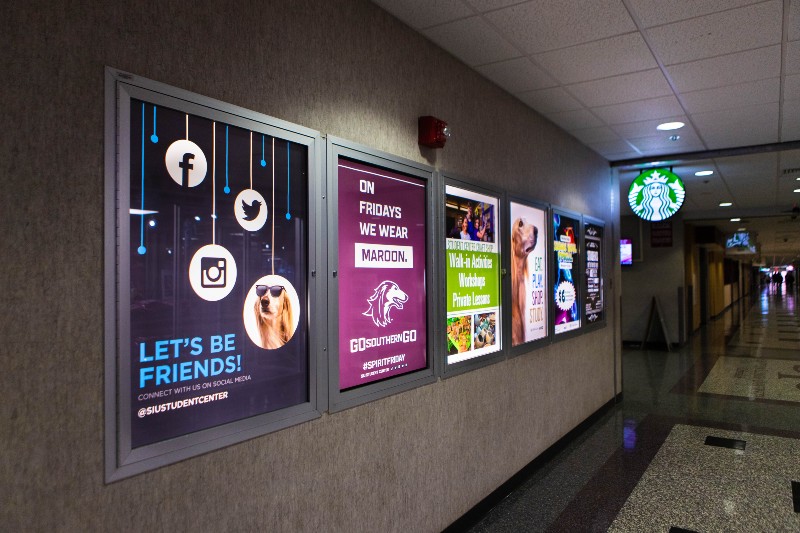 Location 1: Across from the University Bookstore
Availability: Student Affairs offices/events are permitted to purchase
Location 2: Across from 1869 Grille
Availability: Only registered student organizations (RSOs) and campus departments are able to purchase advertising
included in $50 purchase:  
2 week display (minimum)
design
print
install
Requests
To start a backlit request contact Student Center Marketing and Graphics by clicking here (under "type of request" select "RSO SC Backlit Request")
Metal Hallway Sign Holders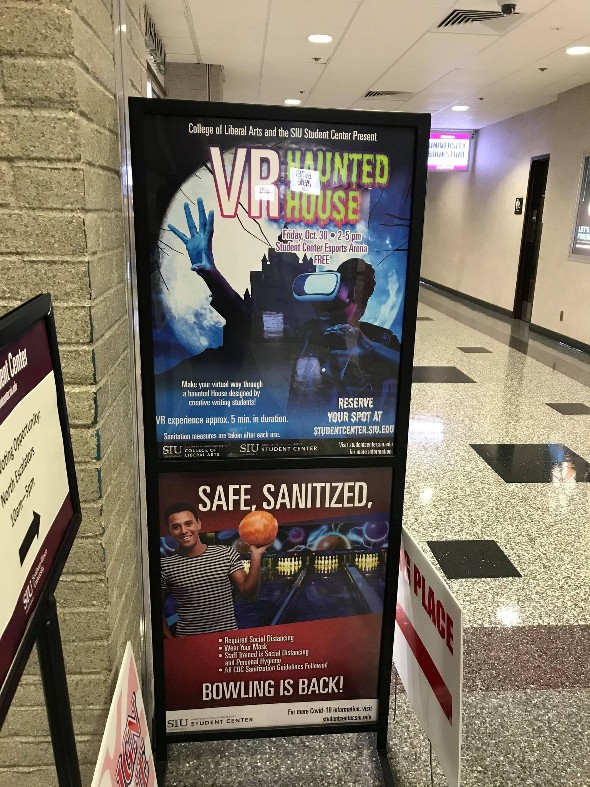 Our 22x28 hallway holders are limited to internal use and RSOs co-sponsoring an event with the student center.
Digital Signage
Roman Room
The Roman Room offers a 65" display for RSOs and Student Affairs departments.
To submit a digital sign request click here.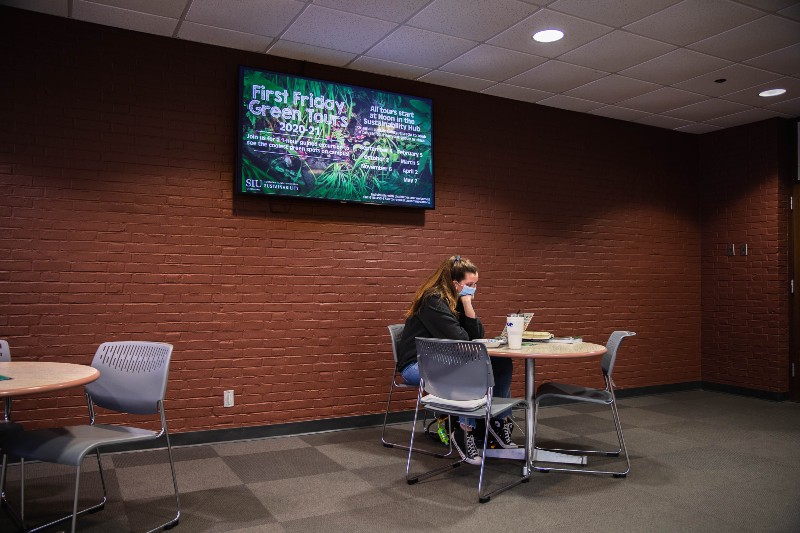 Hallway Displays
Hallway displays are for internal Student Center use only.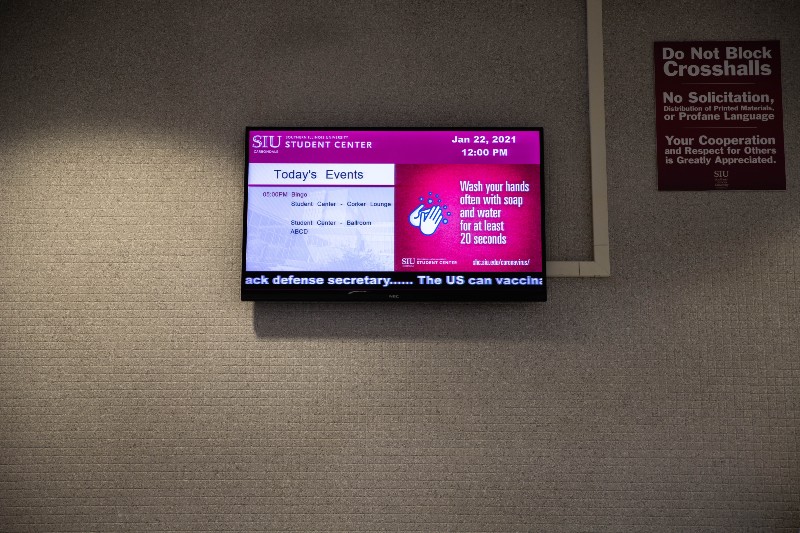 Bowling & Billiards
Bowling displays signs are for internal Student Center use only.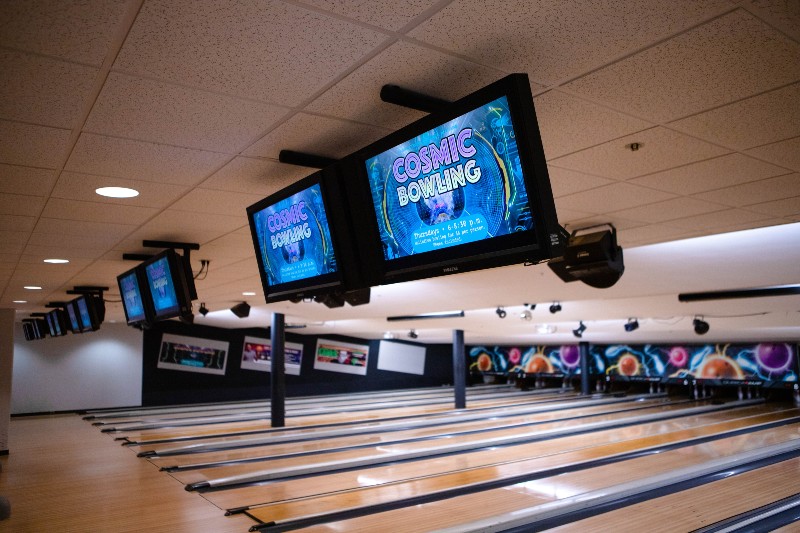 Entryway Display
Entry display is for internal Student Center use only.
Other Ways to Advertise
Chalking
Student Affairs Departments and RSOs may chalk on the exterior sidewalk. It is encouraged that it be confined to open areas where rain and weather can wash old postings away. As with all areas of promotion, it is expected that good taste, judgment, and courtesy be used. Chalking is not allowed on walls or buildings. Spray chalk is prohobited. Groups that violate this policy for be fiscally responsible for chalk removal by PSO.
Chalking at the student center is prohibited under any awning where rain isn't able to wash away the chalk. Groups will be charged for power washing chalk found under awnings. 
Social Media
We're on Facebook, Instagram, Twitter, and Tiktok. Feel free to tag us. If our posting calendar has room and the content is appropriate for our audience we'll try to re-share.
Chalk Wall

Registered student organizations partnering with the Office of Student Engagement have the ability to colloborate on a chalkwall project. Contact OSE here.
Yard Signs 
Yard signs may be placed on Student Center property to promote approved student attended events. The limit is two yard signs on the day of the event only.
Prohibited Advertisng at the Student Center:
Table tents
Door postings
Handouts (without a solicitation table)
Student Center Marketing and Graphics
Did you know the Student Center has it's own Marketing and Graphics Department? Small/Large formatting can be done on the fourth floor for Registered Student Organizations,  Student Affairs Departments, student projects, and off campus entities. Learn more here.