Sunset Concerts
Main Content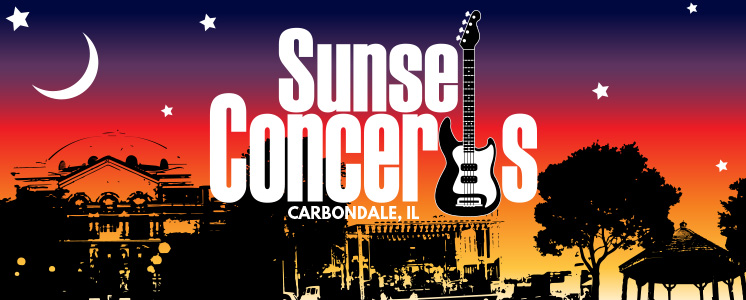 2022 Season
Sunset Concerts will return this summer!
These free concerts will happen each Thursday at 7 p.m. beginning June 30th, running through July 28th. 
For the safety and enjoyment of all, please use only single-serve containers. No glass bottles, underage drinking, no solicitation, no pets, and no smoking.
All questions for the 2021 Sunset Concert season can be directed to the Office of Student Engagement at (618) 453-5714 or getinvolved@siu.edu.
2022 Summer Artists:
June 30: Modern Day Saints | Shryock Steps
The Modern Day Saints formed in 1984 when Phil Bayer and Terry White met up in Southern Illinois. Terry had been attending school at SIU and Phil had just moved to the area to put his psychology degree to use by working with trouble youths at Touch Of Nature Wilderness Program. They had met a few years earlier in Chicago through a mutual friend and connected as songwriters. They fell back into music upon reconnecting, wrote a handful of songs together and decided to form a band. They shared tastes of classic rock from their 1970's high school years and were currently influenced by the more recent punk and new wave trends of the 80's.
In 1993 the band dissolved. Other opportunities arose for each member and goals had changed. However, the boys remained in close touch and over the years gathered from time to time for a performance and in 2022 they formally reunited. They are busy recording their first record in over thirty years and are playing select shows until the release of their next LP.
---
July 7: Greg Klyma | Turley Park
"American songwriter, Greg Klyma is a purveyor of old school country and rock music. Influences include Tom Petty, Steve Earle, Bon Scott-era AC/DC, and Willie Nelson. If lyrics and melody take center stage in your musical world, welcome home! Follow Greg on twitch.tv/socialklyma and here your faves by request." (from 

Spotify

)
---
July 14: Funky MojoDaddy | Washington Street

"Every roots music fan loves being melted by the vibe and energy of a smokin' hot band. When the heat of the music matches that mood, magic is made.
The members of MojoDaddy are all top-shelf musicians who have achieved considerable success with their respective groups. Throughout their careers, these guys have taken the message of Chicago blues and traveled the world to spread it with artists such as Buddy Guy, The Kinsey Report, Steepwater Band and Green Room Rockers. The group consists of Kenny Kinsey (bass/vocals), Jerry Porter (drums/vocals), Jeff Massey (Slide guitar/vocals), Ryan Frahm (guitar/vocals) and TJ Jenkins on keys....
Together, they have quickly gained a reputation for being one of Northwest Indiana/Chicagoland area's top blues bands and rhythm sections. All of this has led to them appearing on a regular rotation at some of the areas hottest live music venues and annual summer festivals.
These musician's pride themselves on playing with heart and soul, creating an unstoppable energy. Their intense delivery of the music will have you up and dancing, while never letting you forget where our musical debt is owed." (from their website)
---
July 21: The Bashful Youngens | Turley Park
"The Bashful Youngens are an Americana duo based in Champaign, IL. Formed in 2015, by musicians Carrie Chandler and Aaron Short, the group is the product of years of friendship, proving a seamless transition to bandmates. The result is a unique sound, falling somewhere between modern folk and alt-country.
They released their first album, which was self-titled, in 2016. The following year, they released their second, inflorescent, to much acclaim. Both albums feature a wide and strong range of songwriting and vocals. Their songs vary from delicate to dark, always sung soulfully and accompanied by beautiful roots inspired melodies.
The Bashful Youngens have a strong midwest following and are a festival favorite at Pygmalion, Shoe Fest and Summercamp, among others. They have shared the bill with artists such as Allison Russell, Birds of Chicago, Paul Thorn, and Old Salt Union.
The band continues to record and tour. Their newest single 'When I'm Dead and Gone' released on March 4th, with the full album to be released later in 2022." (from their website)
---
July 28: Gizzae |Shryock Steps