Big Things Are Within Reach
ID Card Office
Main Content
The ID Office is located on the second floor of the Student Center. Normal business hours are Monday – Friday from 8 a.m. to 4:30 p.m. Student Center Building hours.
Card Issue Guidelines
To receive an ID card you must be a student, staff, faculty or retired member of the university.
If you are a new faculty or staff member, a picture form of identification and your contract from Human Resources must be presented prior to obtaining a card. Last, first, middle name or initial in addition to classification will be printed on the ID card.
Formal titles will not be printed. Required forms of identification must be current/unexpired, name spelled correctly, and no paper copies. The following identification can be:
Passport
U.S. Driver's License or State ID
Military ID
Example ID Card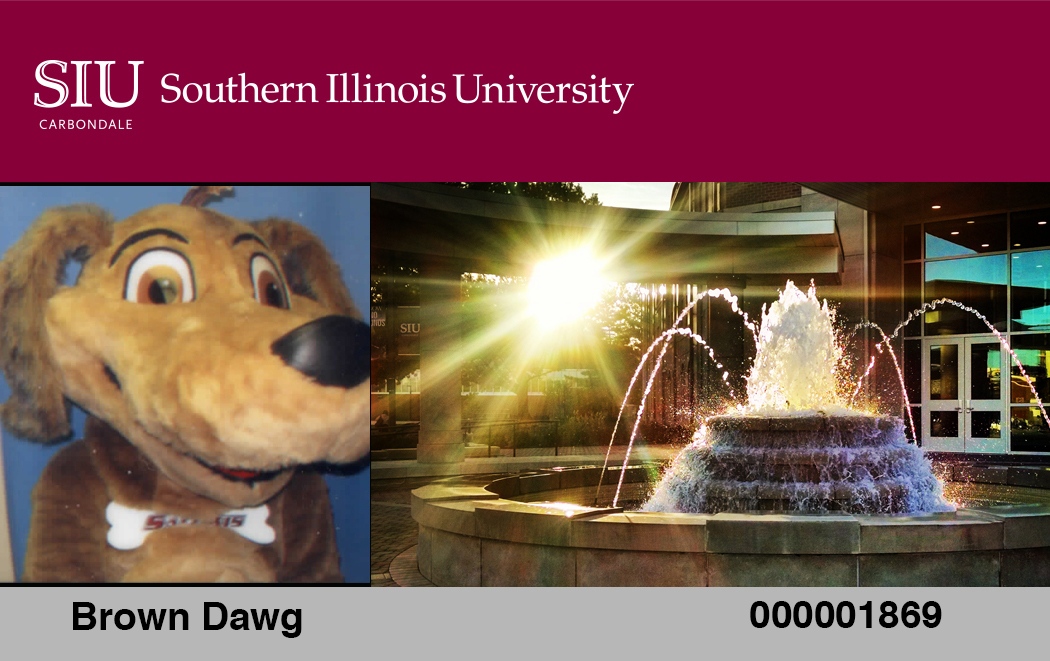 A picture will be necessary in obtaining an ID card
No headgear, sunglasses or any other item that obstructs the face will be worn at the time the ID picture is taken. In accordance with the United States Department of State policy regarding the wearing of religious headgear in passport photos, photographs must be taken with no visible obstruction of the face necessary for positive identification. The upper portion of the forehead to the lowest point of the chin may not be covered.
New students will incur a $10 charge, which is charged to their Bursar bill.
Changing an existing ID Card
A name change on a card will be permitted if the required forms of identification are presented at the time of the request.
Off Campus ID Cards
Students will need to contact their academic unit. The academic unit will forward your request to the ID office.
Lost/Stolen ID cards
If your card has been stolen or misplaced you will need to go to SalukiNet to inactivate your card or call the ID Office and let us inactivate the card for you. After 4:30 p.m. and on weekends you may notify the Department of Public Safety (618/453-3771). If you find your card you will need to bring it to the ID Office for re-activation or go to SalukiNet. We will not re-activate your card over the phone.
For a replacement ID card, you will incur a $20 charge to your Bursar bill or you may pay using your Debit Dawg at the time of service.
The cardholder is responsible for safeguarding their ID card. Should a card become lost, either accidentally or by theft, SIU assumes no responsibility for illegitimate purchases from the cardholders account prior to the cardholder notifying the ID office during regular business hours at (618/536-3351), deactivating the ID card through SalukiNet after business hours, or by contacting the SIU Department of Public Safety at (618/453-3771).
Depending on where your card was lost, your ID may be mailed back to the ID card office. You must be a current student to claim a lost card.
Misuse of ID Card
ID cards are the property of the Student Center ID office. If you allow another individual to use your card for the purpose of obtaining services such as Mass Transit your ID will be confiscated and the cardholder will be subject to disciplinary action.
To prevent damage to our CSVT (Debit Dawg) machines, cards turned into the ID office that are taped, cracked, chipped, have animal bite marks, holes, bent, or worn image will be shredded.
Patrons bringing non-working ID cards to our office that are cracked, chipped, have animal bite marks, holes, bent or worn image will not be repaired.
If you are a graduate student, we will not repair an undergraduate ID card.
Your ID card can be used for
Photo identification
Printing
Copying
Laundry
Meal card
Mass Transit (Saluki Express Buses)

Access to university facilities and events
Obtaining medical services